Return Policy
Updated 7 days ago
Most domestic items are eligible for returns/store credit, with the exception of final sale items and made-to-order pieces. All international orders are final sale and therefore not eligible for return, exchange or store credit.
The returns eligibility window is 10 days from the order delivery date. Customers may receive a refund on the original payment method if the request has been made up to the end of the 5th day. Any return requested on days 6 through 10 will receive store credit. All return requests made after 10 days of the order delivery date are ineligible for return and are considered final sale.
Log into your account to initiate a return.
To initiate a return, log into your customer account, select the order, click "Request return" and select the product you wish to return. We'll email you once your return request is approved.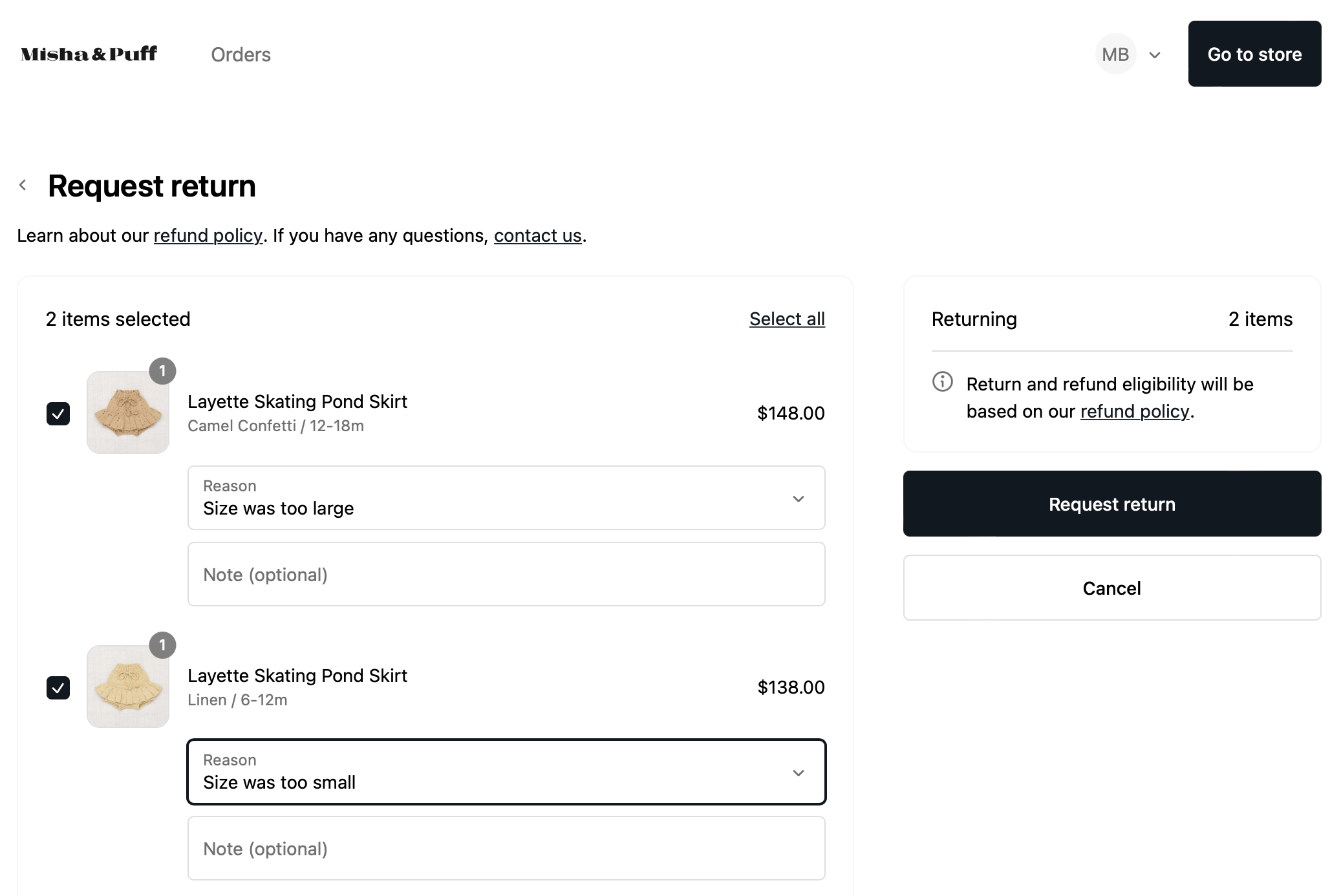 Customers are now responsible for organizing return shipping and may combine multiple returns in one box. Please be sure to keep your shipping receipt. Misha & Puff is not responsible for items that are not approved for return.
Customers have 7 days to place a return in the mail after the return has been approved. After 7 days, the return will be canceled.
If there was a mistake on the part of Misha & Puff or in the case an item was faulty or damaged, please contact us immediately. Customers may be reimbursed for the original delivery and provided a free return label.
Products must be returned in unwashed and unworn condition with all original tags and packaging included.
Only items purchased through shop.misha-and-puff.com may be returned.
Find our Newburyport Store return policy here. If you wish to return a purchase from the Misha & Puff Newburyport store please email the store at [email protected].
Items purchased through our retailers must be returned to the place of purchase.
All sale items are final sale and therefore not eligible for return, exchange or store credit. Please use our fit guide or the measurement charts listed on the products to determine your size, as sale items can not be returned. If you are unsure of what size to get, check out the size charts listed with each product or send us an email. We are always happy to chat with you.
Refunds
Returns are typically inspected and processed within 14 days after receipt. This may take longer during times of higher volume.
Refunds may be processed for other reasons, including damages, lost packages, unavailable items, cancelations, etc.
After refunds have been processed and completed, it can take up to 30 days to reflect in your account.
Was this article helpful?